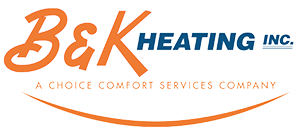 Improving Home Performance in Dayton, Vandalia, & Piqua, Ohio
When you face increasing utility costs on a regular basis, that suggests your heating and cooling systems may be malfunctioning. Inconsistent or insufficient heating and cooling performances from room to room can cost you a lot of money. However, these issues can be corrected by our NATE-certified technicians from B&K Heating in Dayton, Oakwood, Kettering, Piqua, Covington, and other cities we serve in Ohio.
A variety of reasons might be to blame for increasing utility and energy costs. You may just require minor repairs or you might need to make your home or office more energy-efficient with some upgraded heating & cooling systems that are energy-efficient and eco-friendly. Throughout the Miami Valley of Ohio, our HVAC experts, plumbers, and electricians set the industry standard for the best AC, heating, ductwork, electrical, and plumbing services available under one roof to improve the performance of your home with humidity control and other quality-of-life improvement services.
When you need our help to improve your indoor air quality or comfort level in Vandalia, Miamisburg, Riverside, Moraine, or Casstown, we have the equipment, expertise, and experience to make it happen. To learn more about our products and services, give us a call at 937-502-3322 or click here to make an appointment today!
Home Performance Services by B&K Heating
B&K Heating has over 25 years of expertise offering home performance improvement services in Brookville, West Milton, Oakwood, and other communities in the Greater Dayton, OH region. We can properly detect any issue with our home energy evaluation services, pinpointing potential sources of energy leakage. Following that, we can suggest a range of house improvements and repairs, such as attic insulation, duct sealing, smart thermostats, or air purification. Some of our most popular enhancement services include:
Trust Us for the Best Home Performance Improvement Services in Dayton & Vandalia, OH
At B&K Heating, we provide the best home performance improvement services in Kettering, Oakwood, Vandalia, Miamisburg, Riverside, and other OH cities that we serve. When you need help with home improvement service services, as well as plumbing, heating, air conditioning, ductwork, or electrical services, then give us a call today at 937-502-3322 or click here to make an appointment with B&K Heating today!